Signs & Wonders, Wonders & Signs 
Life, Golf, and a Sign – Watch for YOUR Signs and Wonders! This incredible story with an amazing sign is shared by John.
Golf has an interesting way of imitating life, or vice versa. For those who aren't golfers, maybe this seems like an odd topic for this month's challenge. How could a game about trying to control a little white ball be so relevant to our life? To  explain, let's use a little help from some of the game's legends…
"Golf is the closest game to the game we call life. You get bad breaks from good shots; you get good breaks from bad shots, but you have to play the ball where it lies." -Bobby Jones
"Of all the hazards, fear is the worst." -Sam Snead
Both life and golf are hard, very hard. They can humble us the second we allow ourselves to believe we are "good" at them or in control of them. At any time our good shot(s) will be met with a bad shot–not if, but when. The difference between a great shot and a lost ball is a very thin line, merely a few feet or even inches. So we shouldn't get too high or low whether things seem to be going or not going according to "our plan". 
We can't redo bad shots, nor good shots with bad outcomes. A great round (or day) can end in an instant if we let that triple-bogey linger. We may also think too far ahead about that shot not yet even played, creating a loss of focus which produces a bad swing. These marathons of life and golf largely depend on our mental game–how much we worry about the past or future. We can best influence both by our attitude, remaining in the moment, and by embracing rather than fearing failure. 
"It" happens, and when it does, we can allow fear and anxiety or we can choose to look at it as valuable. Two bad shots in a row, combined with a big number can make us want to walk off the course. Sounds like life again does it not? 
Here is a REAL LIFE golf story, a sign, a wonder…
Every spring for the past 10-12 years, I've been fortunate to travel with 11 friends to play in an annual "Spring Challenge Cup" golf trip. This Ryder Cup format event consists of four straight days of competition, always starting on Masters Sunday, with two six-person teams vying for bragging rights for the year.
On the fourth and final day of this year's competition I was experiencing some of the "humbling failure" mentioned above. Losing the match after the 15th hole, I was feeling "just a bit" disappointed with my golf game, definitely feeling sorry for myself, and wanting to walk off the course. Even with the competitive pressure of the match already eliminated, I still felt anxiety with my swing issues. Thus, I proceeded to pull my next tee-shot on the 16th hole left of the elevated green. I watched my ball land softly, dribble painfully, slowly down the bank, and eventually settling in the water.
Enough is enough. I began walking the 150 yard waterline (fuming and mumbling to myself) in pursuit of any balls other golfers may have frustratedly deposited over the past days, along with my own, a Titleist-2 Pro-V1 with a Liberty Mutual logo. 
As I approached, I had yet to see even one single ball, a rarity in itself on any golf course. Eventually reaching the water well beyond where I was confident my ball should be, still not a single ball. So backtracking to where I was confident my ball had stopped, there it was, (or at least I thought it was). Submerged was a Titleist-2 logo clearly staring up at me just inches into the water below the waterline.Taking a knee, I picked it up, rolled it over in my hand, but no Liberty Mutual logo. Instead, I was immediately met with chills and hair standing up on my arms due to seeing the following…MAC.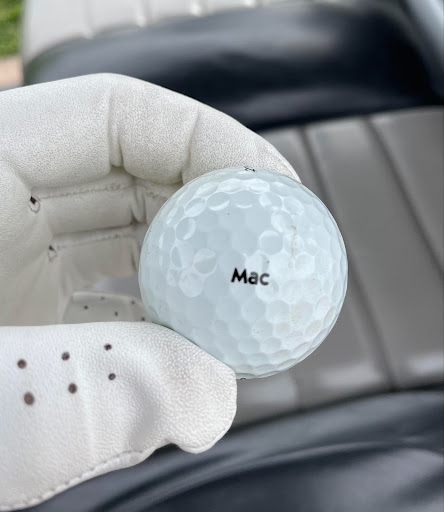 ​The logo on this ball, obviously not the one I deposited and the ONLY one visible in the water, possessed the initials of Molly Anne Corlett (MAC). I immediately shared with the other three in my foursome, followed by tears welling in all our eyes and looking for a rational explanation, earthly at least. How could this be? How long had this been there? How many other golfers may have walked by the same ball not to discover it? What if I would have hit my ball to the green or opposite side away from the water, or decided to just ride in the cart to the green as always, never to see it? How many factors had to come into play, and what were the odds of all this coming together for ME finding THIS ball?  
I could only continue by smiling with tears of joy due to what seemed to be an impossible but personal and clear sign from my Molly, telling her dad that this and any game of golf was much too irrelevant to get upset over. As you might expect, any of my future shots that also go awry in golf or life likely won't be due to the same reasons, or met with the same frustrated and anxious reaction. But even if these feelings creep in, I have a sign and wonder from my daughter, Molly, to LET IT GO, live in the moment, and value what is truly important.
In closing, with a little help from one of life's greatest legends…
Trust in the Lord with all your heart and lean not on your own understanding. -Proverbs 3:5
What signs and wonders appear to you? How do they help you remember what is truly important? 
Please share this challenge with others and share your signs and wonders with us by posting to this challenge.